H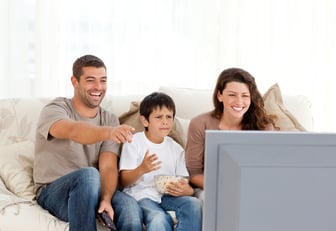 appy World Television Day! In 1996, the United Nations held the first World Television Forum and subsequently proclaimed November 21 World Television Day. While we marvel at the beauty of our giant flat screens from a purely technological perspective, the holiday is more about what the medium represents. Television has proven itself to be a major tool in influencing public opinion and disseminating information; world politics have been indelibly marked by the rise of television. Since we already wrote a blog post celebrating World Radio Day, we wanted to make sure we didn't leave out our favorite visual medium! Let's take a closer look at the origins of the television industry, shall we?
The first television broadcast was accomplished by Philo Farnsworth in 1927. Unfortunately, his system was not mass marketable. "The Queen's Messenger" which aired in 1928, is often credited with being the first television program broadcast in the US. It is believed to have reached a whopping FOUR television sets, all of which were located in research labs.
Franklin D. Roosevelt was the first US President to deliver a televised speech. He did so at the 1939 World's Fair in New York, where television was introduced to the general public for the first time. The speech was broadcast to a handful of TV sets in the New York area (but definitely more than four. Progress!)
By the early 1940s, Television was beginning to gain some ground- enough ground that advertisers were willing to pay for the privilege of being on TV. The first television commercial was an ad for Bulova watches that aired July 1, 1941 during a baseball game between the Brooklyn Dodgers and Philadelphia Phillies. It cost $9.
Unfortunately, 1941 wasn't all baseball and timepieces in the television industry. On December 7, 1941, regularly scheduled programs were interrupted for the first time to deliver news of the attack on Pearl Harbor.
Interestingly, while World War I contributed to the development of radio, World War II stymied television. It wasn't until after the war that TV became commonplace in homes.

After the Second World War, a newly invigorated middle class caused a boom in sales of television sets, and television stations began to broadcast around the clock worldwide. Prior to this, television stations often programmed only a few hours a day.
Chevrolet was the first automaker to advertise on television beginning in 1946, beginning one of the television industry's most lucrative partnerships.
Cable television came onto the scene almost simultaneously in 1948 in Arkansas, Oregon, and Pennsylvania. The nature of over-the-air signals meant that many remote or mountainous locations got very poor reception. In these areas, community antennas were erected in advantageous positions and connected to homes via coaxial cable. No more fiddling with the rabbit ears!
While the first remote controls were intended for military use, it wasn't long before couch potatoes everywhere could rejoice.

The first remote control for television was developed by Zenith in 1950 and was called "Lazy Bones." It connected to the television set via wire and had a single button. By 1955, Zenith had produced a wireless remote that worked by shining light at a receiver on the television. While this remote could change channels, power the set on and off, and control volume, it did have some drawbacks. Since it was a light-activated system, ordinary lamps and sunlight could unintentionally act on the television.
In the 1950s, television managed to revolutionize the frozen food industry. Swanson packaged an excess of Thanksgiving turkey in aluminum trays, added vegetables and potatoes, and advertised the convenient meal as a "TV Dinner." (Convenience is debatable here, as microwaves were not yet practical for home use. It was certainly easier than roasting an entire turkey, though.)
In 1963, for the first time in history, television surpassed newspapers as America's most trusted information source. In a poll this year, 36% of Americans found TV to be a more reliable source than print, which was favored by 24%. While correlation does not imply causation, it's worth noting that Walter Cronkite began anchoring the CBS Evening News in 1962. He was often cited as "the most trusted man in America."
Over the years the television has continued to evolve and innovate. While television no longer enjoys the dominance it once did, TV ads consistently bring advertisers some of the highest ROIs in mass media. We'd like to wish all our hard working and dedicated television clients a happy and prosperous World Television Day!