We are thrilled to unveil the ShareBuilder Platform - the ultimate media sales solution from the industry's most experienced media sales software company. Our team's years of experience in revenue, inventory, and relationship management have come together in one powerful, web-based application. With our platform, your team can operate more effectively and efficiently than ever before, making data-driven decisions with ease. We have no doubt that ShareBuilders is the best option for your media sales needs, and we're excited to prove it to you.
In today's dynamic media sales landscape, sales teams must deliver greater results with limited resources. The ShareBuilder Platform offers the ultimate solution by seamlessly integrating the power of our CRM and Pricing products, eliminating the need for constant switching between systems and information silos. With centralized data access, our platform helps you streamline your sales process and empowers you to make data-driven decisions confidently.
No one else in the industry can offer you a tool that puts your sales data in one place. Say goodbye to chair swivel and hello to a more organized and efficient sales organization. Our software keeps you focused on your team's most urgent challenges, prioritizing the work that generates revenue.
This is only the beginning of ShareBuilders' transformation. We're paving the way for new innovations you won't find anywhere else.
Mobile App: With the new Platform comes a mobile app, the first of its kind for media sales teams. CRM is fully available in the app, and we're quickly adding Pricing features, too. Now, your team can access the data they need, when they need it. Imagine a world where your AEs can check the rate card during a meeting and then update their pending and activity seconds after closing the deal. This is the future of efficient sales teams. Available for both Android and Apple.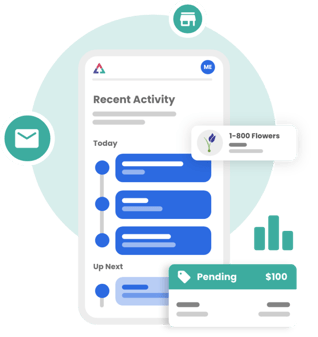 AI: As the landscape of media sales undergoes constant change and transformation, we recognize the need to pivot ahead and meet the demands of our customers and their industries. Embracing the defining technologies of our time, artificial intelligence (AI) and machine learning (ML), we are committed to a balanced approach, staying grounded in practical AI solutions that deliver meaningful benefits to our valued customers.
We are the only media sales platform with 20+ years of data on human-based pricing, sales, and forecasting decisions that span the entire broadcast industry. We're using that experience to leverage AI in a way no one else can. We have several new features coming soon that provide even greater insight into your team's progress and help you make informed decisions confidently. This recent blog provides more details about our approach to AI.
The ShareBuilder Platform is not just a game-changer; it's a revolution in media sales software. With years of industry experience, we've created a seamless, web-based solution that empowers your team to operate efficiently, drive analytics-informed outcomes, and maximize revenue. Our commitment to innovation means we're introducing groundbreaking features to keep you ahead of the curve. The future of efficient sales teams is here, and we're enthusiastic to lead the way. Check out this page for more, and stay tuned for more exciting developments from ShareBuilders!